Winter season 2018-19
Powder touring in wild mountains
First yurt backcountry lodge in Kazakhstan!
Backcountry ski-touring and splitboarding experience in Central Asia, Tian Shan mountains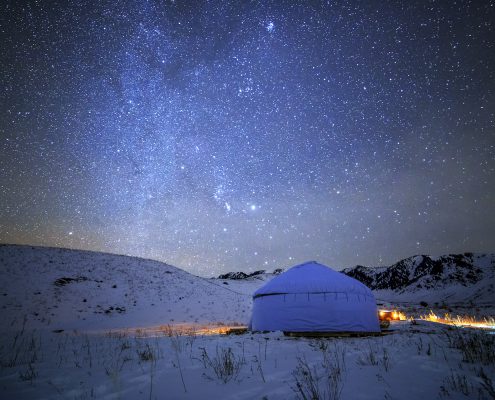 Journey starts now!  Eco-friendly powder touring adventure!
Our mountain range is — Ile Alatau, part of the Northern Tian Shan mountain system (ancient Mount Imeon) in Kazakhstan and Kyrgyzstan. It is the northernmost mountain range of Tian Shan stretching for about 350 km with maximal elevation of 4,973m (Talgar Peak). The term «Alatau» refers to a kind of mountains. The range is bounded from the north by the Ili Depression of the Ili River, hence the name. The former capital of Kazakhstan, Almaty, is located at the foot of the range. This region is true gem of Central Asia.
Heli-ski
Winter, Spring and even Summer!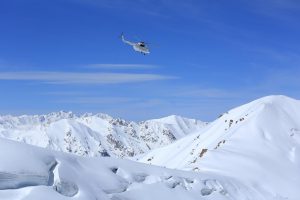 Our hometown Almaty, is very unique. City with 2 million citizens and modern infrastructure where mountains are only 10 kilometers away and 30 minutes driving from downtown and you can freeride at resorts or make some wild ski-touring. Mountains are high and glaciated so backcountry season starts in September and ends in July. You wont find anything like that in the world.
News and updates
snow conditions / yurt lodge news

https://freeride.kz/wp-content/uploads/2018/01/2018-01-17_17-21-52.png
1050
1206
alpinrage
http://freeride.kz/wp-content/uploads/2017/10/logo2.png
alpinrage
2018-01-17 17:09:27
2018-01-17 17:09:27
Akbulak Freeride - 50cm of powder

https://freeride.kz/wp-content/uploads/2017/11/freeride-almaty-.jpg
1280
1920
alpinrage
http://freeride.kz/wp-content/uploads/2017/10/logo2.png
alpinrage
2017-11-27 15:22:41
2017-11-27 16:03:06
27th November, Yurt Lodge backcountry season start